We collected information from nine beaches that you can visit to Poros. Accompanied by map coordinates for your GPS.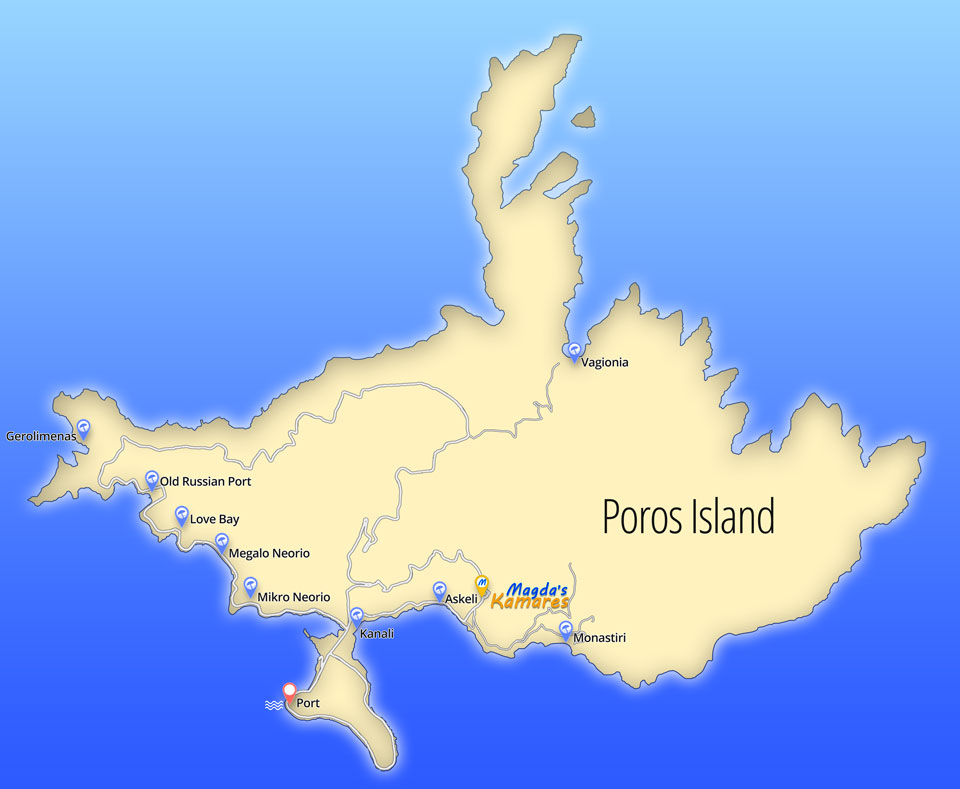 Mikro Neorio 37°30'30.6"N 23°26'51.5"E
A small but beautiful beach, which is organized and sandy with pine trees reach the sea.
Megalo Neorio 37°30'40.0"N 23°26'42.9"E
Located after the Mikro Neorio and has one of the most beautiful sand-beaches of Poros.
Love Bay 37°30'53.9"N 23°26'19.0"E
The most romantic part of Poros where you can enjoy the turquoise waters and swimming under the pines. It is organized by allocating canteen and lounge chairs.
Old Russian Port 37°31'06.3"N 23°26'10.0"E
Here you will find a historical monument, with great architectural and historical interest, accompanied by a organized beach.
Gerolimenas 37°31'20.2"N 23°25'43.8"E
A secluded pebble beach, where you have to walk a path to arrive.
Kanali 37°30'24.4"N 23°27'34.9"E
If you're looking for an organized beach with very fine sand, cafe snack bar, this is a perfect place. It also has the advantage of being located near the town of Poros and you can reach by foot.
Askeli 37°30'30.8"N 23°28'05.7"E
In this beach you can find umbrellas, deck chairs, bar, taverns and restaurants. There is also a tennis beach volley, and water sports.
Monastiri 37°30'18.1"N 23°28'58.5"E 
Quiet and organized beach with crystal clear waters, below the hill where the famous Monastery of Poros, surrounded by pine forest. And do not forget the taverns arround.
Vagionia 37°31'51.7"N 23°28'59.8"E
The shoreline of this beach is 500 meters long and the bottom is sandy with pebbles and clean, ideal for snorkeling. This place is 7 km from the port of Poros, and it take a half hour journey by car to reach. But you will be compensated because the beach Vagionia hosts the sunken city, a unique attraction where the bottom can be seen ruins of ancient houses and cobbled streets.